Why uPVC System Louver, ELIV?

This product ensures complete and easy open/close feature under diverse weather conditions by providing an excellent leak-proof, air-tight, and weather-proof structure for windy areas.
1 Excellent Thermal Insulation
uPVC System Louver, ELIV
Synthetic resin (u-PVC) materials and barriers with multiple air layers compose the louver and ensure excellent thermal insulation.
> Thermal transmittance: 3.32 W/㎡·K
> High Thermal Insulation: 2.17W/㎡·K
Other Louver Product
Thermal insulation is poor due to the weak louver shape and materials. So, the resulting condensation causes mold and stain on the wall.
2 Efficiently Blocks Rainwater and Air
uPVC System Louver, ELIV
The rainwater cover on the bracket and the EPDM gasket between the upper and lower louvers prevent leak and improve air tightness.
> Air-tightness class 30 (11.5m³/h·m²)
> High Air-Tightness : 0.87m³/h·m²
Other Louver Product
Air and water tightness is weak due to the characteristic of the assembly structure; rainwater inflow appears.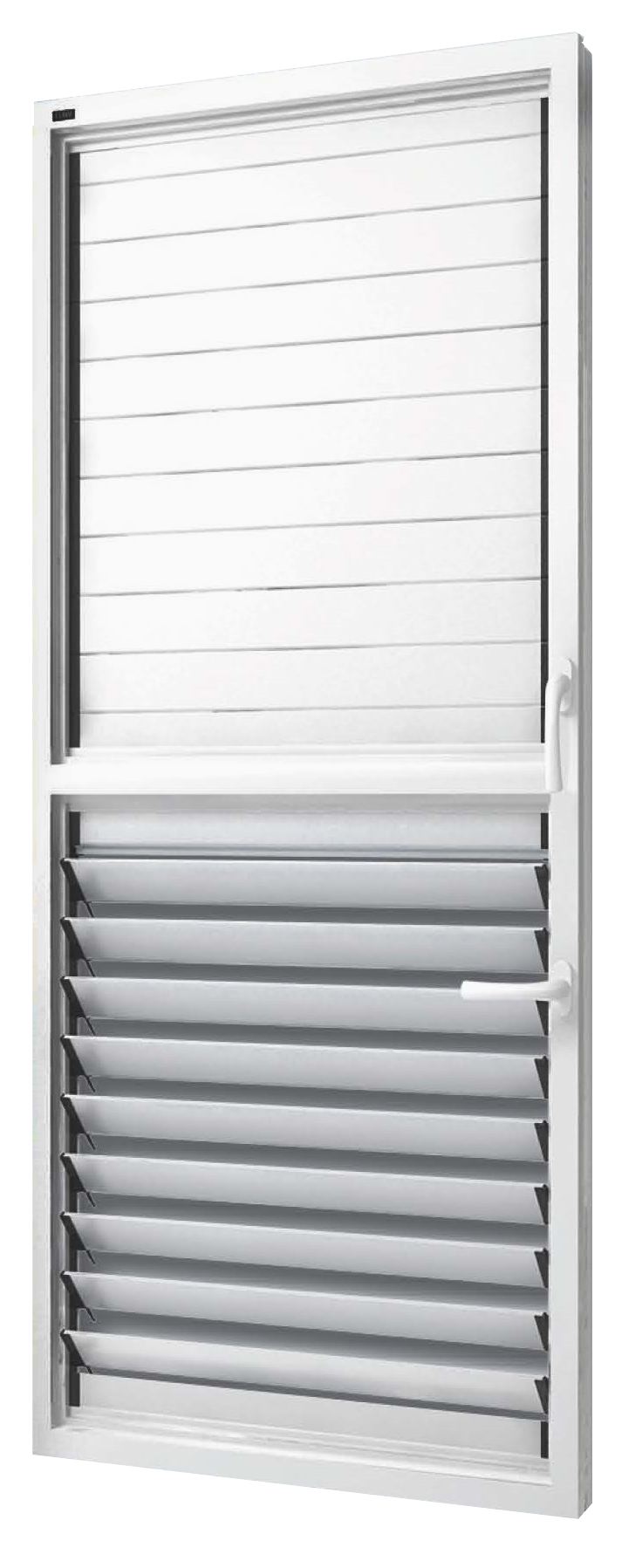 3 Easy open & close operation and delicate design
uPVC System Louver, ELIV
Gear-driven type enables open & close operation with small force and fine adjustment is possible.
The European style is applied to the handle to ensure delicate design; the handle length is adjustable to allow easy operation.
Other Louver Product
– A strong force is needed to pull and hook the handle for open & close operation.
– Only four or five stages are possible, and fine adjustment is not possible.
– Operation errors occur and slates are missing because the open & close unit is directly connected to slates.
4 Durable and Semipermanent
uPVC System Louver, ELIV
Reinforcement beams exist inside and the fivefold structure including fixing bolts, wedges, and holders improves the wind pressure resistance and prevents slates from missing.
Wind pressure resistance
Middle bar : 790kg / Louver Slate : 120kg
Security
Concentrated load middle bar endures : 150 kg
Sandbag Impact Test : 30Kg bag, 100cm height dropping
Other Louver Product
High wind pressure makes noise and missing slates.
5 Improved Ventilation Efficiency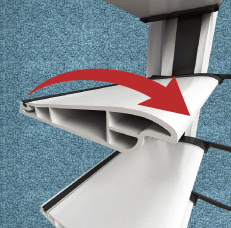 uPVC System Louver, ELIV
Wind speed is fast in the streamline design similar to aircraft wings; the ventilation efficiency is improved.
Other Louver Product
Existing slates are flat, and the wind speed is slow.