Easy Installation and Replacement of ELIV
Our product has a slim unit structure(30mm), it can be applied to various profiles for doors and windows made of any materials (Plastic, Aluminum, Wood, and Glass). Furthermore, it can be optimized, installed, and replaced under any circumstances.
Step 1
Actual Measurement
1.1.1. To install louver product, all spaces shall be correctly measured and the minimum values shall be used for installation.
1.2.1. For the sealing process, subtract 10 – 15mm from the four sides of the frame (right, left, top and bottom side) for the correct dimension of the Louver product.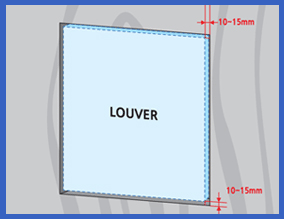 Step 2
Fixing

2.1.1. Fix the louver product with the first brackets (or anchors) within 100~150mm or less from the corners of the louver product and keep the proper interval after that.
2.1.2. In case of being shortened of bracket interval on the condition of the site confinement, follow & apply to construction companies.
2.2.1. For timber and concrete frames, fix them with the louver product by brackets(or anchors).
2.2.2. The kinds and sizes of the brackets (or anchors) may be vary depending on specifications of frames.
Step 3
Sealing

3.1.1. For timber and concrete frames, completely seal the gaps between the louver product and the other gaps (right, left, top and bottom side) with urethane foam, and check the depth of sealing for next working.
For concrete frames, seal the same parts of gaps with water-resistant mortar, and flatten the surface.
3.2.1. After six hours of sealing with urethane foam, cut off all untidy parts.
3.2.2. Finally, seal the gaps which were covered by urethane foam with silicon sealant.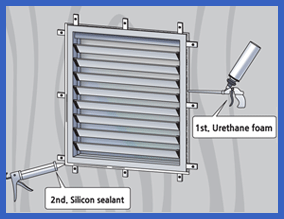 Materials for Installation
| | | |
| --- | --- | --- |
| Item Name | Description | Use |
| Temporary frame holder | 50*150 triangular support | Temporary window frame fixation |
| Protection | Protection film | Pollution prevention |
| Screw | Various dimensions | Attachment/assembly of members |
| Bracket | 1T~3T Steel Bracket | Window frame fixation (Timber frame) |
| Anchor | Anchor bolt ≥Φ6 | Window frame fixation (Concrete frame) |
| Silicon | Fluid-type (non-pollutant) sealant | Assembly and leak prevention |
| Urethane foam | Various dimensions | Insulation and prevention of dew condensation and leak |
Installation Images (Model: BL-P2VF, BL-PDTW, BL-PFDTW)