Sound-Proofing and Heat Insulation Door
This is a new-concept door that reflects the recent residential life trend towards interior design and remodeling.
♦ Application – Kitchen, Multipurpose Room, Balcony in Living Room, Balcony in Bedroom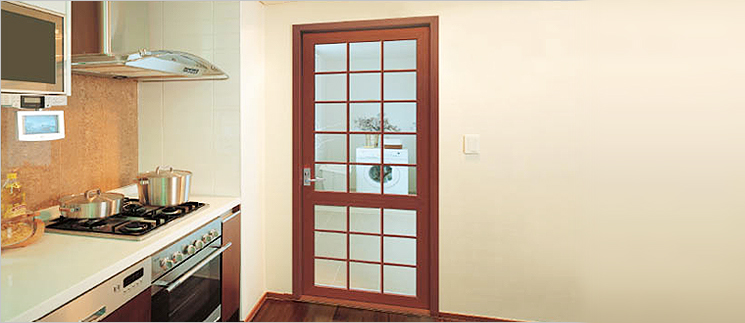 Providing insulation, sound-proofing, and sealing effect in expanding spaces.
Improvement in interior effect between the kitchen and the multipurpose room of the apartment.
The middle bar – Allowing the application of a two-type door.
Elegant exterior with decorations and glasses.
Matching in color with other surroundings (Kitchen or Living Room)
3-Point locking system
Doors with diverse shapes.(Fixing & turning type as well as top-lite type)
The middle bar serves as both the door and doorframe.
The double-open middle bar – providing a wide view and increased width.
The cap to the double-open middle bar – improvement in interior effect.
The fixing unit – locking and unlocking using flush bolts.
Common design – compatible with the glass frame of the existed system windows and doors.
Elegant exterior with a slim locking gear.
United locking device – locking or unlocking by handle on the door.
Equipped adjustable cam – no errors caused by the bent door.
Glass options: 3㎜, 5㎜, 12㎜, 16㎜, and 22㎜.